About the Landscape Review
Leveraging data from Beacon Oncolytic Viruses, our Landscape Review dissects the rapid evolution of the field. Assess the breakdown of drugs starting between January and June 2023, and view the current drug status. The report also covers trials added and is divided by viral family. Elevate your drug development strategies with invaluable insights by downloading the landscape review.
The landscape includes:
An overview of the latest drugs, trials, and updates in the field
Regulatory highlights witnessed in the space throughout the first half of 2023
A synopsis depicting the most common transgenes used in oncolytic virotherapies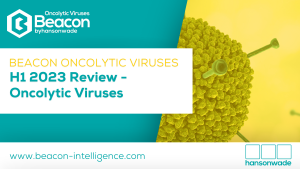 Please note that some information has been removed from the downloadable content below. If you would like to receive the complete version and speak with one of our oncolytic viruses specialists, please do not hesitate to contact beacon@hansonwade.com to discuss your drug development data needs.
Beacon Oncolytic Viruses
How the most complete oncolytic viruses database can help you
What we cover
Beacon Oncolytic Viruses is a manually curated database solution that includes all publicly available data for preclinical, active, approved, and discontinued virus-based therapies being developed for oncology indications. The database covers:
Genetically modified or naturally occurring oncolytic virus-based therapies
Virus based therapeutics including therapeutic viral-vaccines
How Beacon Oncolytic Viruses works
Search the clinical trial and drug landscape by virus type and family, genome types, transgenes, genes deleted or modified for pathway or signalling alteration, envelope modifications, or promoter related modifications, routes of administration, diseases, biomarkers, line of therapy, instantaneously and/or extract the data points you need to conduct more complex analyses.
Our unique Milestones filter and visualization highlights past, present, and future drug development milestones including drug and trial readouts, asset history, and regulatory announcements. This enhancement provides an accurate, timely and exhaustive single-drug timeline allowing you to benchmark progress in the oncolytic viruses space.
Find out more
Beacon is the essential decision-support tool for developers of complex therapeutics. Our market-defining, proprietary ontologies, combined with the most accurate and comprehensive life sciences data, provide our customers with unparalleled visibility of the drug and trial landscape.
With Beacon, you can make drug development decisions with confidence. This is why 23 of the world's top 25 drug developers trust us.
At Beacon, we are committed to empowering our pharmaceutical and biotech industry partners with accurate, comprehensive data. We are not just a tool; we see ourselves as a partner in the drug development journey. Contact us to learn how we help you.