About the Landscape Review
Using data from Beacon Cell Therapy, Beacon's Landscape Review analyses the field's rapid evolution. While CAR T cells remain dominant, there is growing interest in allogeneic therapies and non-oncology applications. The report also offers insights into upcoming trials expected to have substantial data releases in 2023 and beyond. Gain valuable insights for your drug development strategies by downloading the landscape review.
The landscape includes :
A comprehensive analysis of the current oncology landscape providing valuable insights into cell therapy trends and advancements.

An exploration of the potential of non-oncology cell therapies, including immune-mediated diseases, for transformative treatment options.

A review examining the future of drug development, focusing on allogeneic therapies and optimizing treatment outcomes through effective preconditioning regimens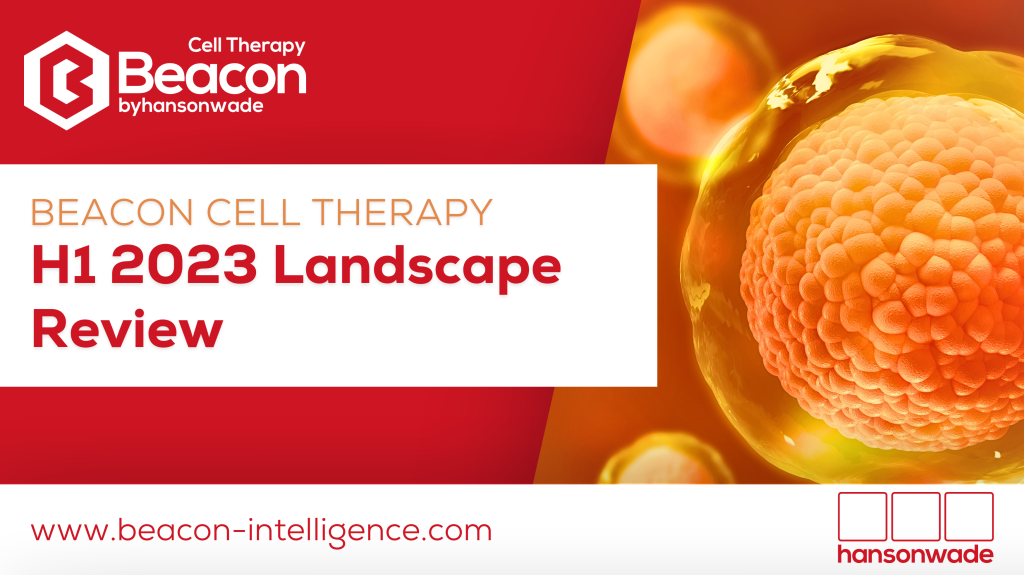 Please note that some information has been removed from the downloadable content below. If you would like to receive the complete version and speak with one of our cell therapy specialists, please do not hesitate to contact beacon@hansonwade.com to discuss your drug development data needs.
Beacon Cell Therapy
How the most complete cell therapy database can help you
What we cover
Beacon Cell Therapy sector-specific curated database includes trial and drug records for preclinical, active, approved, and discontinued:
Receptor-engineered cell therapies such as CAR (chimeric antigen receptor) and TCR (T-cell receptor) therapies
Other engineered or non-engineered immune cell therapies such as natural killer cells and regulatory T cells (Tregs)
Stem cell-derived and iPSC-derived cell therapies such as immune cells, somatic cells (e.g. cardiomyocytes and retinal pigment cells) and precursor cells
How Beacon Cell Therapy works
Search the clinical trial and drug landscape with over 15 filters, including cell type, cell source, and starting material, enabling you to extract the data you need to conduct complex analyses efficiently.
Our unique Milestones filter and visualization highlights past, present, and future drug development milestones, including drug and trial readouts, asset history, and regulatory announcements. This enhancement provides an accurate, timely and exhaustive single-drug timeline allowing you to benchmark progress in the cell therapy space.
Find out more
Beacon is the essential decision-support tool for developers of complex therapeutics. Our market-defining, proprietary ontologies, combined with the most accurate and comprehensive life sciences data, provide our customers with unparalleled visibility of the drug and trial landscape.
With Beacon, you can make drug development decisions with confidence. This is why 23 of the world's top 25 drug developers trust us.
At Beacon, we are committed to empowering our pharmaceutical and biotech industry partners with accurate, comprehensive data. We are not just a tool; we see ourselves as a partner in the drug development journey. Contact us to learn how we help you.