Beacon Biomarkers & Assays
Our first of its kind database delivers the most complete biomarkers, assays and clinical trial landscape for lung cancer
What we cover
Our inaugural Beacon Biomarkers & Assays offering focuses on lung cancer, covering all biomarkers, assays and clinical trials investigating targeted therapies within the lung cancer landscape.
From preclinical validation of biomarkers and assays to regulatory interactions and updates to clinical trial data, this module encapsulates everything you need to know about the lung cancer biomarker and assay space.
How Beacon helps
Advance your lung cancer biomarker and assay development programs by:
Understanding and benchmarking the different biomarker strategies used in clinical trials and the various assays and associated protocols used to measure these biomarkers.
Scour the lung cancer landscape for novel or established biomarkers and assays and investigate the associated preclinical validation studies.
Track developments across the regulatory landscape for lung cancer biomarkers and assays.
Stay on top of emerging trends and new developments with real-time updates and alerts, as well as in-depth monthly reports curated by our analyst team.
How Biomarkers & Assays works
Search the biomarker, assay and trial landscape by over 30 unique properties including:
Biomarker biology and classification
Assay platform technology
Regulatory status
Drug target and therapeutic class
Disease stage and line of therapy
Customize your search strategy to give you the data you need for your research focus.
How we target the data
We house all publicly available sources of data updated with 24 – 48 hours of publication proactively.  Our sources cover (but are not limited to):
Clinical trials registries
Scientific journals and publications
Company reports and presentations
Press releases
Conference reports and abstracts
Government and regulatory organizations
Assay developer websites and assay documentation
What our customers say
"[Biomarkers & Assays] is going to be a blockbuster in my opinion. It's very valuable. There's no doubt about it… If I can delve into this information sooner rather than later before we write protocols and such, it's going to be amazing"
Senior Vice President
Multinational Biopharmaceutical Company
Our Biomarkers & Assays Expert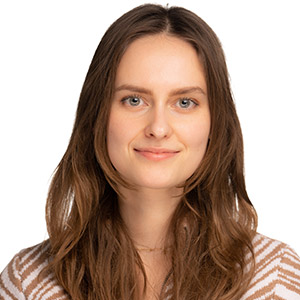 Dasha Kaloujskaia, is the lead research analyst for Biomarkers & Assays related trials and assays in the Beacon team.
Interested in a tour? Contact us
For a tour of the Beacon Biomarkers & Assays database, please contact the team below.

Frank Plowden and Will Savill
Biomarkers & Assays Account Managers
About Beacon
We are a clinical trial and pipeline database solution, designed in partnership with pharmaceutical professionals. We track targeted therapies to provide accurate, in-depth and real-time information in the rapidly evolving landscape of drug development.
Other Beacon Solutions
Adoptive Cell
Bispecific
Cancer Vaccine
Checkpoint
Cytokine
DDR
Gene Therapy
Immune Tolerance
Microbiome
Oncolytic Viruses
RNA
TPD