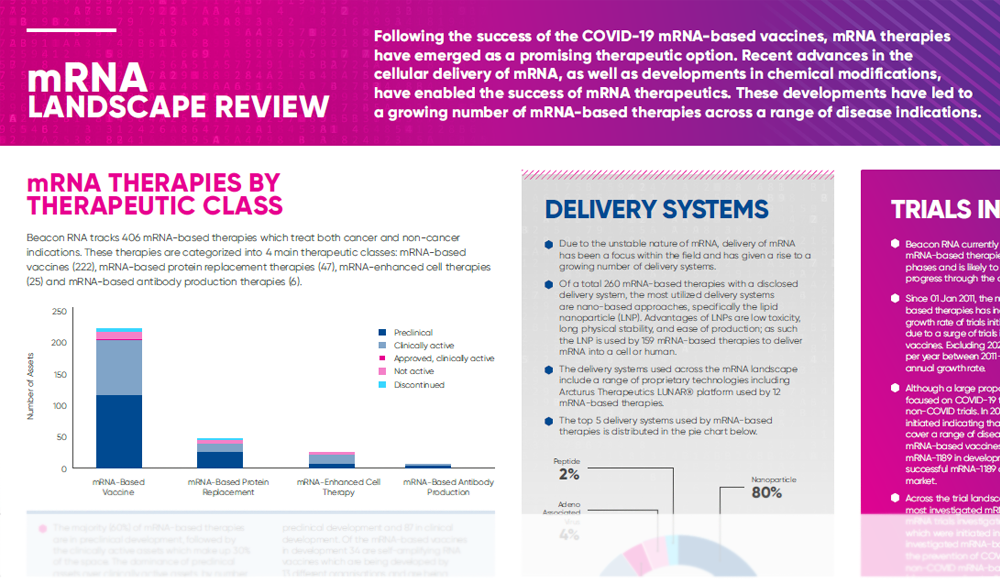 mRNA therapies by therapeutic class
Beacon RNA tracks 406 mRNA-based therapies which treat both cancer and non-cancer indications. These therapies are categorized into 4 main therapeutic classes: mRNA-based vaccines (222), mRNA-based protein replacement therapies (47), mRNA-enhanced cell therapies (25) and mRNA-based antibody production therapies (6).
mRNA drugs by disease indication
Across the mRNA landscape 126 mRNA therapies are in development for the treatment of an oncology indication. Lung cancer is the most explored cancer indication in the mRNA space with 11 assets in clinical development.
Across the non-oncology landscape 50% of mRNA therapies target a viral disorder. mRNA-based vaccines present a promising approach to stimulate an immune response to protect from viral infections, as such 92% of mRNA therapies treating viral disorders are mRNA-based vaccines. The most targeted viral disorder is COVID-19.
Key Learnings
Triggered by advances in research and 2 drug approvals, mRNA therapies are experiencing a surge of activity and investment.
While the current therapeutic class landscape significantly favors mRNA-based vaccines, the remaining mRNA therapeutic classes are seeing an increase in activity. With 98% of mRNA-based protein replacement therapies, mRNA-enhanced cell therapies, and mRNA-based antibody production therapies yet to surpass phase 2 trials, we can expect to see an increase in the preclinical and clinical development of assets belonging to these therapeutic classes.
The mRNA clinical landscape continues to see year-on-year growth and dominancy of the approved COVID-19 vaccines; however, we are also seeing an increase in the number of trials investigating non-COVID targeted drugs.
Find out more
This insight and data is part of the subscription to Beacon RNA.

Speak with our Team
Our dedicated teams are on hand to showcase how Beacon can help you find the answers to your RNA questions.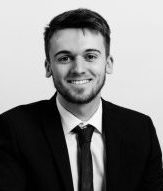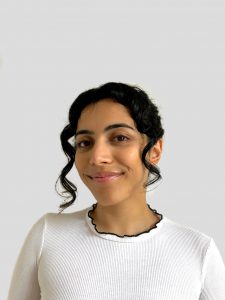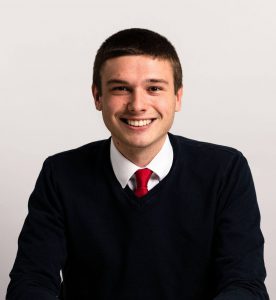 About Beacon Targeted Therapies
We are a clinical trial and pipeline database solution, designed in partnership with pharmaceutical professionals. We track targeted therapies to provide accurate, in-depth and real-time information in the rapidly evolving landscape of drug development.
Learn more about how our clinical trials and drug database solutions can be tailored to your research requirements