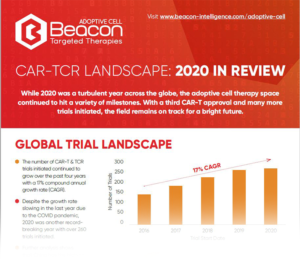 Global trial landscape
The number of CAR-T & TCR trials initiated continued to grow over the past four years with a 17% compound annual growth rate (CAGR).
Despite the growth rate slowing in the last year due to the COVID pandemic, 2020 was another record-breaking year with over 260 trials initiated.
Further analysis shows that China has the highest number of CAR-T trials, closely followed by the US.
Key players and highlights of the year
Looking at the regulatory movements in the CAR-T & TCR space, 2020 was an exciting year with several players and assets making their presence felt. Kite's Tecartus was granted approval for mantle cell lymphoma (MCL) both in the US and Europe while liso-cel's BLA won long-delayed FDA approval for B-cell lymphoma on February 5, 2021. Download the infographic to discover more.
Key Learnings
Although 2020 has been a challenging year due to the COVID pandemic, the cell therapy field continues to expand with China having the most clinical trials.
Kite have further strengthened their position in the field, taking a piece of the MCL market after the approval of Tecartus in the US and Europe. With Breyanzi recently granted FDA approval for B-cell lymphoma, will ide-cel for multiple myeloma be next?
The allogeneic approach is gaining ground in the cell therapy space. While NK cells and T cells offer their own advantages and limitations as "off-the-shelf" therapies, which cell type will eventually be successful?
Find out more
This insight and data is part of the subscription to Beacon Adoptive Cell.

Speak with our Team
Our dedicated Sales and Research teams can help you with questions by showing you how this insight and data is collated on Beacon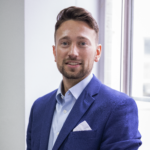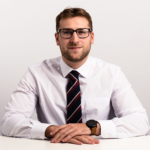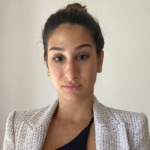 About Beacon Targeted Therapies
We are a clinical trial and pipeline database solution, designed in partnership with pharmaceutical professionals. We track targeted therapies to provide accurate, in-depth and real-time information in the rapidly evolving landscape of drug development.
Learn more about how our clinical trials and drug database solutions can be tailored to your research requirements