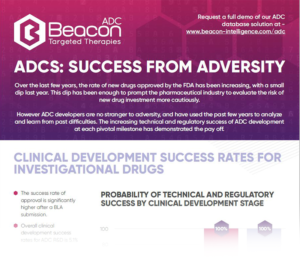 Clinical development success rate for investigational drugs
The success rate of approval is significantly higher after a BLA submission
Overall clinical development success rates for ADC R&D is 5.1%
Status of ADCs entering pivotal trials
Following a successful year in 2019 with three ADC approvals, two more approvals have been granted so far this year taking the total number of approved ADCs to nine.
Key Learnings
The majority of ADC failures in clinical development happened in the early stage. The promising success rate from BLA to approval suggests that the BLA is very unlikely to be rejected once it is submitted.
With many ADCs discontinued without an apparent reason or a vague reason, it begs the question, why were these drugs discontinued? With 107 of the trials for discontinued ADCs on Beacon having published toxicity and efficacy data, you can draw your conclusions through an analysis of this data.
Although the success rate from pivotal to BLA is not high, the low failure rate encourages us to keep an eye on the current nine ADCs that are actively investigated in their pivotal trials.
Find out more
This insight and data is part of the subscription to Beacon ADC.

Speak with our Team
Our dedicated Sales and Research teams can help you with questions by showing you how this insight and data is collated on Beacon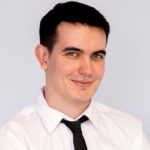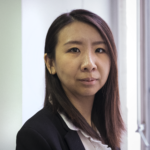 About Beacon Targeted Therapies
We are a clinical trial and pipeline database solution, designed in partnership with pharmaceutical professionals. We track targeted therapies to provide accurate, in-depth and real-time information in the rapidly evolving landscape of drug development.
Learn more about how our clinical trials and drug database solutions can be tailored to your research requirements